1.2714 Die Block Steel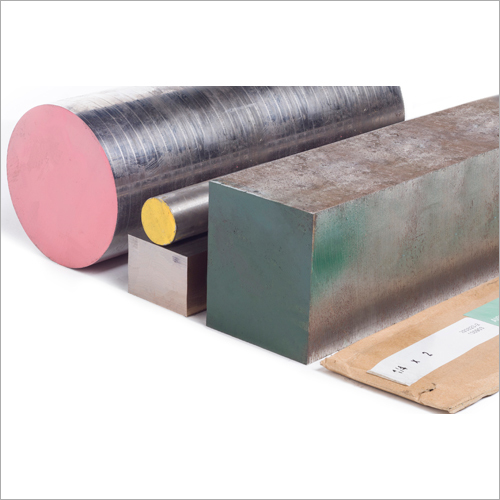 1.2714 Die Block Steel
Price And Quantity
Kilograms/Kilograms

135 INR
Product Specifications
Product Description
Chemical composition - (Typical analysis in per)

| | | | | | | | | | |
| --- | --- | --- | --- | --- | --- | --- | --- | --- | --- |
| Standards | DB6 | | DIN2714 | | AISI L6 | | AFNOR | 55NCDVV7 | JIS SKT4 |
| 55iNiCrMoV | C | Si | Mn | P | S | Cr | Ni | Mo | V |
| | 0.50-0.60 | 0.10-0.40 | 0.65-0.95 | <0.015 | <0.004 | 1.00-1.20 | 1.50-1.80 | 0.45-0.55 | 0.07-0.12 |
| | | | | | | | |
| --- | --- | --- | --- | --- | --- | --- | --- |
| USA | Europe | Germany | China | Japan | India | R.of Korea | Russia |
| AISI/SAE | En | DIN,WNr | GB | JIS | IS | KS | GOST |
| A681 L6 | 55NiCrMoV7 | 56NiCrMoV7 | 5CrNiMo | SKT 4 | T55Ni7Cr4Mo5V1 | STF 4 | 4ChMNFS |
Ventura Alloy and Steels Stocks and Supplies Die Block Steels DB6 / 2714 in India and abroad. DB6 Steel is an extreme pass on steel with high treating resistance and great through-solidifying properties. Its nickel substance has it uncommonly effect safe - a highly recommendable element for vast mallet & press bites the dust alike. This evaluation is generally supplied in toughened condition or extinguished and tempered to 1300 N/mm & a working hardness of 370 to 410 HB (round) or 355 to 400 HB (square, level).
Utilized as standard steel for manufacturing passes on of different kinds, press bites the dust, expulsion kicks the bucket, retainer plates, heavily clad trim bites the dust, hot shear sharpened pieces of steels and instrument holder.

PROCESS ROUTE

EAF+LF+VD+UPSET+FORGED+ANNEALED+ROUGH TURNED FOR ROUNDS/MILLED FOR FLATS+OIL QUENCHED AND DOUBLE TEMPERED+ ROUGH TURNED FOR ROUNDS/MILLED FOR FLATS

STEEL PROPERTIES

The special Hot Work Pre-hardened Steel has great toughness and high wear resistance. DB6 Steel is generally supplied in hard, quenched, tempered and also in annealed condition in special cases.Usually it's working hardness is 360-430 BHN. This steel grade is the upgraded version of DIN 2713 for greater efficiency and performance.

APPLICATION

Dies for Specially Drop and Close Die Forgings for Hammers & Mechanical Presses, Die Moulds,Shoe Blocks, Die Holder, Cassettes, Piston Rods, Cranks, Boaster, Shearing Blades, Tools, plastic moulds Etc.

PHYSICAL PROPERTIES

| | |
| --- | --- |
| Coefficient of Thermal Expansion at degree C | 10 m/(m*K) |
| 20-100 | 12.1 |
| 20-200 | 13.1 |
| 20-300 | 13.2 |
| 20-400 | 13.5 |
| 20-500 | 14..1 |
| 20-600 | 14.3 |
| | |
| --- | --- |
| Thermal Conductivity at degree C | W/(m/*K) |
| 20 | 35.0 |
| 350 | 39.0 |
| 700 | 36.0 |
HEAT TREATMENT

| | |
| --- | --- |
| Soft annealing degree C | 650-710 |
| Cooling | Furnace |
| Hardness HB | max, 240 |
| Hardening degree C | 840-880 /860-900 |
| Quenching | Oil / Air |
| Hardness after quenching HRC | 57 / 55 |
| | | | | | | | | | |
| --- | --- | --- | --- | --- | --- | --- | --- | --- | --- |
| Tempering Degree C after quenching | 100 | 200 | 300 | 400 | 450 | 500 | 550 | 600 | 600 |
| in Oil -HRC | 56 | 54 | 52 | 49 | 47 | 46 | 43 | 38 | 34 |
| in Oil -HRC | 54 | 52 | 50 | 47 | 45 | 43 | 40 | 36 | 32 |