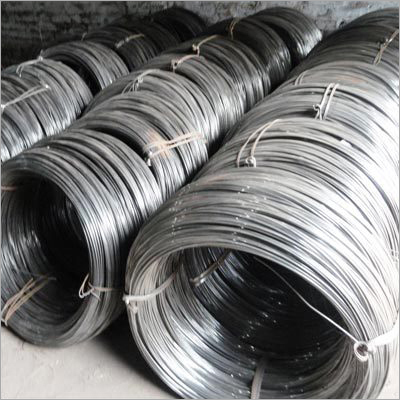 1.8159 Spring Steel
Price And Quantity
Product Specifications
Construction

Spring Steel
Product Description
We are a leading and renowned organization, involved in manufacturing and supplying wide gamut of 1.8159 Spring Steel to our honorable patrons. It is used to manufacture automobiles' parts and gear parts. This steel is fabricated through high grade materials that are procured from credited vendors in market. It is supplied in tempered and quenched conditions. This steel has excellent shock resistance and toughness due to which it is highly admired by large number of customers. 1.8159 Spring Steel has been strictly designed as per guidelines of our dexterous experts. Great durability along with excellent functionality has always been strength of this spring steel.


Chemical Composition - (Typical Analysis in %)

| | | | | | | |
| --- | --- | --- | --- | --- | --- | --- |
| C | Cr | Mn | V | Si | P | S |
| 0.45-0.55 | 0.80-1.20 | 0.50-0.80 | 0.15min | 0.50max | 0.050max | 0.050max |
VENTURA Alloy Supplies & Stockist of EN47 Chromium Vanadium type spring steel supplied in the as rolled condition as well as spheroidized annealed condition. EN47 is suitable for oil hardening and tempering. When used in the oil hardened and tempered condition EN47 spring steel combines spring characteristics with good wear and abrasion resistance. When hardened EN47 offers excellent toughness and shock resistance which make it a suitable alloy spring steel for parts exposed to stress, shock and vibration.

Applications: En47 steels, highlight the advantage is good hardenability, another hot working performance, comprehensive mechanical properties, decarburization resistance is also good big cross section of various important spring, such as automobile, locomotive, large plate spring, spring, etc. SUP10 Spring main used for heavy vehicles, tractors, industrial production load, stress and the diameter of the larger plate spring and helical spring. It is also used widely in the motor vehicle industry and many general engineering applications. Suitable for applications that require high tensile strength and toughness. Typical applications include crankshafts, steering knuckles, gears, spindles and pumps.


Forging: Forge at 1050°C. Do not work this steel when it has fallen below 840°C.

Annealing: Heat slowly to 820-840°C, soak well. Cool slowly in the furnace.( Our annealing is done in electric furnace to avoid decarburization. )

Hardening: Pre heat slowly to 650/700°C and thoroughly soak. Continue heating to the final hardening temperature of 830/860°C and allow the component to be heated through. Quench in oil.

Tempering: Temper the EN47 spring steel component immediately after quenching whilst tools are still hand warm. Re-heat to the tempering temperature then soak for one hour per 25 millimetre of total thickness (2 hours minimum) Cool in air. For most applications tempering of this grade will be between 400-600°C.

Heat Treatment: Heat treatment temperatures, including rate of heating, cooling and soaking times etc. will vary due to factors such as the shape and size of each component. Other considerations during the heat treatment process include the type of furnace, quenching medium and workpiece transfer facilities. Please consult your heat treatment provider for full guidance on heat treatment of EN47.

Size Range:

Wire RodRound – As Rolled (If required we can also supply in spheroidized annealed condition.) 8 MM to 32 MM DIA

Flat Bars - As Rolled and Spheroidized Annealed

Sizes Available: 20 x 20 mm, 22 x 22 mm, 25 x 25 mm, 25 x 60 mm, 28 x 28 mm, 28 x 36 mm, 32 x 32 mm, 36 x 36 mm, 36 x 45 mm, 55 x 55 mm, 40 x 40 mm, 45 x 45 mm, 45 x 55 mm

Price Range: Rs.68-90 per Kg
Trade Information
Mumbai Navashiva

1 Ton Per Month
Contact us for information regarding our sample policy

All India